Children and Teens
Children: Ages 7-13
Teens
The "Middle Years" Age 7-13
At this age, your child may have had many years of stuttering.  Perhaps previous therapy has not met expectations.  Perhaps you have never been involved in your child's therapy and still do not know how to best support your child as a communicator.
Especially for this age-group, it is best practice to encourage healthy attitudes and feelings about communication and to look at the overall communication profile, not just the speech disfluencies, when developing a treatment plan
This is also the age when other fluency disorders such as cluttering may be first diagnosed. Your child may not be stuttering, but his communication is inefficient and hard to understand.  Or, there could be unusual patterns such as mid-word breaks and final sound/syllable repetitions. We are careful to do a differential diagnosis, so the therapy plan fits your older child.
"When my son was in middle school, he was very suspicious of Laura at first, as he did not want to be in speech therapy at all, let alone with yet another therapist, but she worked with him with infinite patience and understanding, Laura was the one who went the extra mile to diagnose him with cluttering, versus normal speech problems. She changed his therapy plan to work on his cluttering and used different ways to keep him interested and involved every week, Laura just refused to give up on my son and for that we will always be grateful.
He became so confident with his communication that he did debate in high school. Thank you, Laura, we couldn't have gotten this far without you!"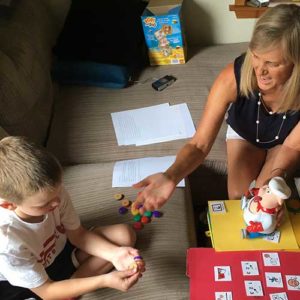 Our son started seeing Laura when he was 6 years old. I cannot say enough good things about her compassion, intelligence, and professionalism when it comes to approaching speech therapy for children who stutter. I look back now and can say that she changed our lives. 
The Special Case of the Teenager
According to experts, treatment is more likely to be successful in adolescents if they can work with a clinician who specializes in stuttering.  I have found success with teens requires an understanding of adolescence at least as much as stuttering.
Teenagers may be coming off of years of school-therapy that has had little impact or are busy with other priorities in their lives.  However, the handicapping effect of stuttering may also be reaching a peak, unfortunately at a time when teens may prefer denial and avoidance rather than action to meet a challenge.
Family-centered treatment
Evaluation Sessions
Each evaluation seeks to understand your child's individualized needs.  An evaluation will include a differential diagnosis of fluency along with a thorough investigation of contributing factors, such as other speech/language concerns and temperament.  You will receive a written report and a chance to ask questions in a parent consultation session.
Therapy Sessions
Therapy may start with individual sessions, taking into account the child as a communicator within the family. Therapy may progress to working within a group when available to increase opportunities for practicing specific communication skills and creating supporting relationships. Laura will continually involve parents/caretakers and significant others in the therapy plan. 
Appointment Hours
All therapy is currently through virtual teletherapy (in-person available to residents in or nearby the Olympic Peninsula) Hours are flexible to your needs.
Tues - Saturday: 10am - 6pm
Laura@spotlightonstuttering.com